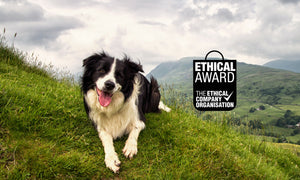 Recognised as a top ethical company
our recent results from The Good Shopping Guide
Something Goood has arrived
We love dogs. We love nature. We believe feeding your dog healthy, high-quality food shouldn't come at the expense of animal welfare or the environment. So we make sure that it doesn't by producing sustainable, premium dog food and have it delivered, straight to your door.
For your dog. For our planet.
Explore our sustainable dog food range
Free range & sustainable dog food
Goood is sustainable premium dog food with natural ingredients. All recipes are grainfree and follow a holistic nutritional concept. Wherever possible, we use locally sourced ingredients - in order to minimise our carbon footprint.
Shop by ingredients
For your dog. For our planet.
Goood proteins
Every bag of Goood contains easily digestible proteins. The contents are tailored precisely to the needs of today's dogs. Even sensitive dogs who suffer from food intolerances will love our free-range chicken, turkey and lamb and sustainably-caught fish recipes.
From ethical provenance
Free range lamb
All of our lamb comes from certified free-range farms where the sheep live as closely as possible to the natural state. Free range sheep also enjoy special attention because of their valuable wool.
Organic Turkey
Organic turkey farming is a niche market. We are very proud to have found a organic farmer in Germany, who is able to provide us with organic turkey meat for our dog food and treats.
Sustainably sourced Fish
Our sustainable fish comes from sustainably certified fisheries that are careful to protect fish stocks and minimise the effects of fishing on the ecosystem.
Goood Air
Did you know that Goood is entirely CO2-neutral? We know that carbon dioxide is not so goood. When we produce Goood, we inevitably release some into the atmosphere through farming, manufacturing and transportation. We can't change that, but what we can do is minimise it with energy-saving production methods and by keeping transport distances as short as possible. We also offset any CO2 that cannot be avoided.
We work with natureOffice, our climate protection partner in Germany, to protect woodlands and plant trees. Climate protection is a global concern, and the trees convert the released carbon dioxide back into oxygen by photosynthesis.
The Box
We put our tasty food in its stay-fresh packaging inside a box made from FSC-certified recycled cardboard. We source recycled wood for this from responsible forestry operations. It also makes our food easy for you to carry home.
Is double packaging really environmentally-friendly?
What you need to know is that our stay-fresh packaging is a real multi-tasker. It keeps the food fresh and the special combination of materials is reusable, so the bag is not simply burned. It is reborn! As a park bench, for example. The recycled outer box protects the packaging from sunlight. And that's the difference. Both materials are recyclable and thus more environmentally-friendly than a simple plastic bag.
Goood Subscription
We all live hectic lives and spending time with your four legged friend is the best way to get a breather from the busy daily routine.

Saving you time, our subscription service means you can get your new sustainable premium dog food delivered to your doorstep on the same day each month, including Saturday and Sunday's!
True life stories on our packaging...
The dogs whose pictures grace our packaging are not just pretty faces.
They are our Instagram ambassadors and you can follow their bold adventures on their accounts.
Do you have similar adventure stories about your dog? Tag a picture of your best friend on Instagram with the hashtag #goooddog and perhaps your dog will soon be smiling back at you from our packaging.
Discover us on Instagram..