For growth & immune system


Without artificial preservatives
Perfectly matched wet food for growing young dogs from the 7th month
Sheep are herd animals. A lot of space and movement are required to keep them appropriately. That is why we only purchase lamb from pasture lambs. Our trout swim in water of natural origin and receive enough oxygen to grow up healthy. We keep stress-causing factors such as exposure to sunlight or noise away from them. Your dog will also taste this difference to normal animal husbandry. Vegetables such as parsnips and potatoes come from our region. Our wholesome recipe does not contain any added sugar or artificial colors, flavors or preservatives and is grain-free. High quality lamb and trout proteins, vitamins and zinc are good for growth and the immune system. You can mix our wet food with dry food or feed it alone. All the nutrients are in there.
For young dogs.

With juicy free-range lamb.

With delicious trout from sustainable aquaculture.

High proportion of regional raw materials.

Gentle preparation.

With zinc.

Good for growth and the immune system.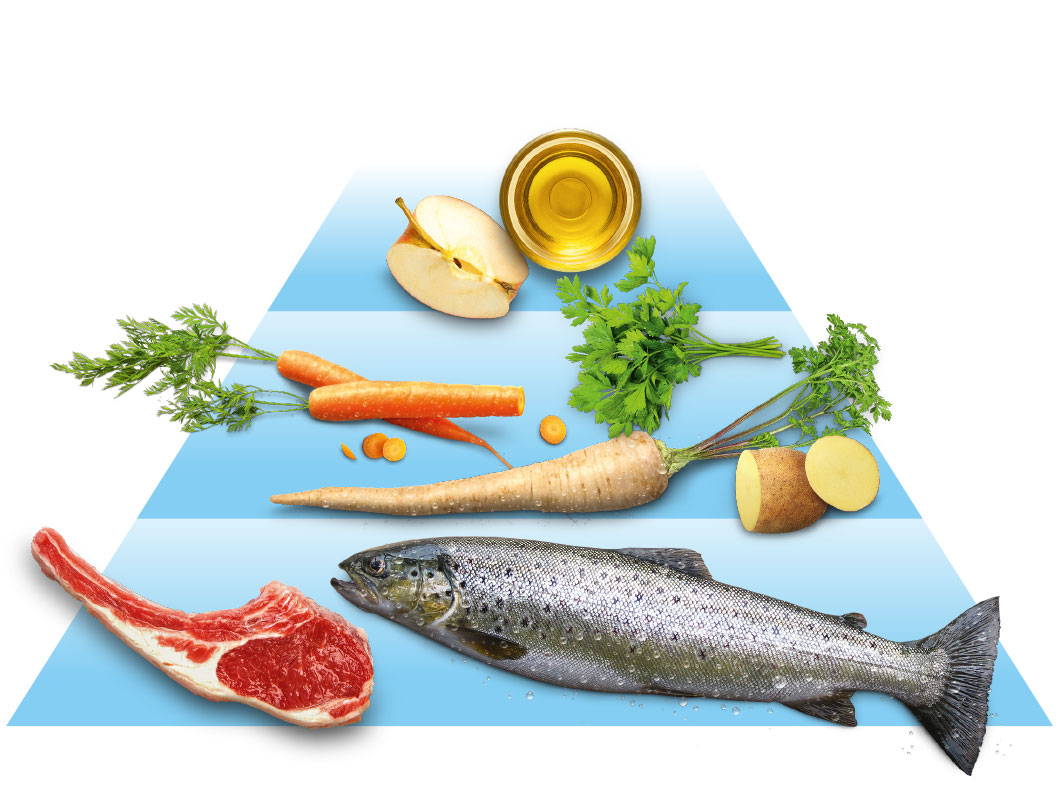 Biologically valuable protein from lamb and trout support harmonious growth. Parsnips are naturally rich in vitamin C and can thus promote the immune system of your young dog.

Complete feed for young dogs from the 7th to the 18th month.
Composition:
Lamb (total 72.5%, consisting of lamb meat, lamb heart, lamb stomach, lamb liver), trout (15%), potatoes, parsnips (6%), parsley
Analytical constituents:
| | | |
| --- | --- | --- |
| Crude protein | 8.9% | Good for growth, muscles, cell structure, metabolism and the immune system |
| Raw fat | 5.1% | Gives energy. Contains essential fatty acids. Supports the absorption of fat-soluble vitamins |
| Crude fiber | 1.2% | Good for digestion and intestinal flora. Contains fiber |
| Raw ash | 0.9% | Describes the proportion of minerals and trace elements |
| Calcium | 0.35% | Good for bones and teeth, nerve functions and blood clotting. Activates enzymes and hormones |
| phosphorus | 0.25% | Good for building bones and teeth and metabolism. Energy to the cells |
| humidity | 80.0% |   |
Additives:
Vitamins / kg:
vitamin D3 (3a671) 200 IU, vitamin E (all rac-alpha-tocopheryl acetate 3a700) 20 mg
trace elements / kg:
copper (copper (II) sulfate pentahydrate 3b405) 2.7 mg, zinc (zinc sulfate, Monohydrate 3b605) 21 mg, manganese (manganese (II) oxide 3b502) 2.16 mg, iodine (calcium iodate, anhydrous 3b202) 0.4 mg
Feeding Recommendation:
These details are guidelines. Individual needs depend on age, breed, weight, activity and housing conditions.

Please feed at room temperature and always provide fresh water.


Final weight
3rd Mon
(10th LW)
4th - 6th
Mon
7th - 12th
Mon
13th - 15th
Mon.
10 kg
600 g
750 g - 810 g
810 g - 750 g
*
20 kg
1000 g
1250 g - 1350 g
1350 g - 1250 g
*
30 kg
1300 g
1700 g - 1800 g
1800 g - 1650 g
1450 g
40 kg
1600 g
2050 g - 2200 g
2250 g - 2150 g
1800 g
50 kg
1900 g
2400 g - 2600 g
2650 g - 2550 g
2100 g
*) Final weight
When your dog has reached this weight, you should gradually switch to an adult food.
At Goood, we believe in a fair and honest delivery policy.
We offer free delivery on all orders over £30, otherwise, a shipping fee of £3.99 will be applied to your order.
We also offer a free returns policy. We will collect and refund your order (less any shipping fee) even if the bag is open. We will collect any unopened bags and return them into stock, but with any opened bags we will donate them to a local dog shelter or give you the option to donate to a shelter of your choosing.
According to the latest figures, published in Jan 18, there are 4,751 people estimated to be sleeping rough in the UK. Many of these own a dog.
We are in the process of finding a partner to whom we can make regular donations of our food to. For every 3kg + bag of Goood sold, we will donate a 300g bag. A 300g bag is enough to feed a Staffordshire bull terrier for a day. We also plan to have a loyalty scheme where we will donate clothes, food and toiletries etc alongside the dog food, on behalf of our customers.
If you would like to nominate a particular charity or shelter, please get in touch. We would love to hear from you, please email us on hello@goooduk.dog