Without artificial preservatives
Highly digestible dog food with sustainable trout for large dogs
Our sustainable trout come from controlled breeding and are full of protein and essential fatty acids. The high-quality components are prepared with great care and are also easily digestible for dogs with sensitive stomachs and food intolerances. Our grain-free recipe with regional vegetables does not require the addition of sugar or artificial colors, flavorings or preservatives. The omega 3 and 6 fatty acids in fish and flaxseed are good for the skin and coat.
For adult dogs from 11 kg.

Larger croquettes.

With delicious trout.

High proportion of regional raw materials.

Gentle preparation.

Good for skin and fur.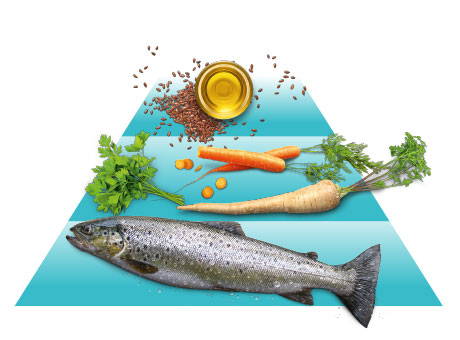 Trout are rich in omega-3 and -6 fatty acids and provide biologically valuable protein. Regional vegetables contain valuable micronutrients such as vitamins, minerals and trace elements. The vegetables also provide valuable fiber. The flaxseed is also rich in omega-3 and -6 fatty acids and therefore good for a silky coat and healthy skin.

Complete feed for adult dogs from 11 kg.
Composition:
Potato *, trout meal from sustainable breeding (25%), sunflower oil (4%), lignocellulose, beet molasses pulp * (sugar-free), poultry fat, liver hydrolyzate, linseed (1.5%), apple pomace *, rapeseed oil (1%), sodium chloride (from sea salt), carrots *, parsnip *, parsley root * (0.3%), parsley leaf *, mussel meat * (total regional vegetable mix 1%);  *) dried
Analytical constituents:
| | | |
| --- | --- | --- |
| Crude protein | 22.0% | Good for growth, muscles, cell structure, metabolism and the immune system |
| Raw fat | 11.0% | Gives energy. Contains essential fatty acids. Supports the absorption of fat-soluble vitamins |
| Crude fiber | 4.5% | Good for digestion and intestinal flora. Contains fiber |
| Raw ash | 8.5% | Describes the proportion of minerals and trace elements |
| Calcium | 1.15% | Good for bones and teeth, nerve functions and blood clotting. Activates enzymes and hormones |
| phosphorus | 0.85% | Good for building bones and teeth and metabolism. Energy to the cells |
| sodium | 0.5% | Good for the electrolyte balance, nerve impulses, heart rhythm and muscle work |
| potassium | 0.9% | Good for the electrolyte balance, heart function and the transmission of nerve impulses |
| magnesium | 0.1% | Good for building bones, nerve functions, building body protein and generating energy |
| Omega-6 fatty acids | 3.0% | Good for various metabolic and repair processes in the body, for skin & fur, as well as brain & nerves |
| Omega-3 fatty acids | 0.3% | Good for a shiny coat and an intact skin barrier |
Additives:
Vitamins / kg:
vitamin A (3a672a) 12000 IU, vitamin D3 (3a671) 1000 IU, vitamin E (3a700) 120 mg, vitamin B1 (3a821) 5 mg, vitamin B2 (3a825ii) 5 mg, vitamin B6 (3a831) 5 mg, biotin (3a880) 600 mcg, calcium D-pantothenate (3a841) 13 mg, niacin (3a314) 60 mg, vitamin B12 90 mcg
Trace elements / kg:
iron (as 3b103) 100 mg, copper (as 3b405) 10 mg , Zinc (as 3b603) 80 mg, manganese (as 3b502) 12 mg, iodine (as 3b202) 1.1 mg, selenium (as 3b801) 0.1 mg. Antioxidants, tocopherol extracts from vegetable oils 1b306 (i)
Amino acids / kg:
DL-methionine (3c301) 2000 mg
Feeding Recommendation:
| | |
| --- | --- |
| New Column | New Column |
| | Daily requirement dry food |
| | |
| | |
| | |
| | |
| | |
| | |
| | |
Serve dry for a satisfying crunch or add fresh warm water (about 60°C) and leave to soak for a few minutes for dogs who prefer a softer texture.
Don't forget, your dog always needs access to fresh drinking water!
If your dog is extra Goood and also has snacks you should reduce the suggested portion accordingly.
Of course every dog is a little bit special so if yours tends to get a bit chubby, you can reduce the amount of food by up to 15%. Don't worry they will still love you ;-).
On the other hand, if your dog is running around for more than three hours a day you can feed up to 15% more.
At Goood, we believe in a fair and honest delivery policy.
We offer free delivery on all orders over £30, otherwise, a shipping fee of £3.99 will be applied to your order.
We also offer a free returns policy. We will collect and refund your order (less any shipping fee) even if the bag is open. We will collect any unopened bags and return them into stock, but with any opened bags we will donate them to a local dog shelter or give you the option to donate to a shelter of your choosing.
According to the latest figures, published in Jan 18, there are 4,751 people estimated to be sleeping rough in the UK. Many of these own a dog.
We are in the process of finding a partner to whom we can make regular donations of our food to. For every 3kg + bag of Goood sold, we will donate a 300g bag. A 300g bag is enough to feed a Staffordshire bull terrier for a day. We also plan to have a loyalty scheme where we will donate clothes, food and toiletries etc alongside the dog food, on behalf of our customers.
If you would like to nominate a particular charity or shelter, please get in touch. We would love to hear from you, please email us on hello@goooduk.dog